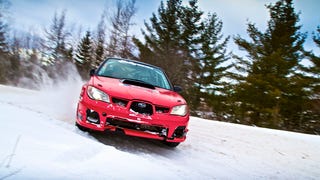 Call it the Snowpocalypse, Snowmageddon, Snostradmus, or just SnOMG, it's snowy outside and people are abandoning their vehicles. Why? We have no idea. Here's proof from the Sno*Drift 2011 Rally showing just how easy it is for any vehicle — whether they be FWD, RWD, or AWD — to conquer the snow.
A world apart from bestickered American rally professionals with comic-book names, we join the the snow drifters of Hungary, who like it cold, fast, and loud.
While walking around one of the spectator parking areas at last weekend's Sno*Drift Rally, we came upon this Subaru Legacy wagon. We have two questions: A) What the hell is going on here? and B) How can we get some?
Ken Block's Ford Fiesta made its competition debut this weekend at Michigan's Sno*Drift Rally. Block retired early with suspension problems, but his car lived long enough to give the world some wicked video. Special-stage snow hoonage and gallery action below.
We warned you about it. We gave you plenty of advance notice. And now it's finally here. Our full 2009 Sno*Drift Rally film. Be afraid, be very afraid, because Jalopnik don't do no lilly-livered video.

You're all well aware that we think racer Travis Pastrana is a bad ass. Sadly, superior driving skills don't exempt you from bad luck. This Pastrana learned during the last stage of the Sno*Drift Rally. All that stood between the Team USA WRX STI and victory was about 11 miles of icy Michigan roads and one adult…