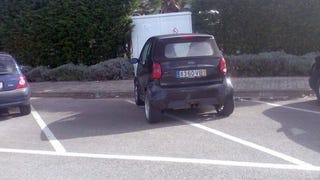 The Smart Fortwo is small enough to park two to a space, which makes a ForTwo taking up two spaces in Portugal a particularly exceptional example of asshattery. This tiny car may be driven by the biggest asshat yet.
"Hey, why not make a Batmobile out of a Smart ForTwo?" This obviously inspired-by-narcotics statement is what created this: The BatSmart.
A Miami ad student's created a print advertisement for Honda's 50cc Metropolitan scooter and we've got to say, it's pretty smart.
Although we've already seen the NHTSA crash tests and the leaked IIHS test video, the official Insurance Institute for Highway Safety (IIHS) crash test results are finally in for the 2008 Smart ForTwo. It turns out the little bugger did pretty well. IIHS awarded the micro-machine its highest rating of "Good" for front…
We make jokes all the time about the Chinese propensity to clone all manner of automobile, but actually seeing the process makes things a bit more real. You forget there are people behind those cars, working in god-knows-what condition, and exposed to whatever chemicals seem necessary for the job. This is a set of…