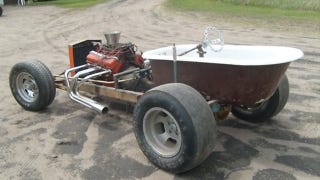 We aren't sure exactly what motivated someone to start building a hot rod around a bathtub, but the results are certainly interesting. This unfinished project is built on an unknown frame and features a low cubic inch small block Chevy V8 (283 or 305), an automatic transmission, some shiny new headers and you guessed…
Awww, isn't this tiny, four-cylinder copy of the Corvette LS7.R's architecture cute? The 1,645cc V4 is destined for a new American performance bike, but only weighing 130lbs, it could be near ideal for engine swaps or kit cars.
Great creative expression frequently derives from the exposé of contradiction- dogs playing poker, William Shatner, Shaq movies, etc. Nice Price or Crack Pipe appreciates a creative clash of opposites, and today's blown Bimmer is about as contradictory as they come.
Most 1950s car ads are full of gibberish and nonsensical feature names, so it's understandable that we tend to tune out most of the hype and focus on the great styling when we see such ads today. However, the 1955 Chevrolet really was an important milestone for Detroit, with the first of millions of cheap, reliable…
It's so easy to bag on the tried and true GM small block 350. Tech lovers will chide it for the decades old architecture. They'll point to its pushrods as a vestige of another era now that we live in a world of overhead cams and variable valve timing. When it comes to bang for the buck though, critics don't have a leg…
Many, many moons ago my band practiced next to a garage filled with speed freaks. Three dudes, who shall remain nameless, sat inside all day, every day, chain smoking, blowing lines and building stuff. One day I showed up for practice and my formerly 600 watt bass amp now pumped out 6,000 watts. Sure, it sounded like…
Let's face it: an engine that was in front-line service for 50 years, with more than ninety million built, reliable, cheap to build, and easy to modify for performance... well, do we even need to mention the small-block Chevy in this series, given that we all know it pretty much sets the Workhorse Engine standard?…
I enjoy shooting properly focused and exposed I-5 photos with a nice SLR, but sometimes you just get tired of stuff like sharpness and non-infinite depth-of-field in your photographs, know what I'm saying? Sure you do. That's when you reach for your homemade pinhole camera, put it in a box of small-block Chevy valves…
According to Ward's Auto, an experimental 6.2-liter, direct-injection V8 producing upward of 500 hp could be factored into the next Chevrolet Camaro equation. The engine would coincide with the Gen V version of the small-block V8, based on GM's existing all-aluminum Gen IV (L92), which powers the Cadillac Escalade,…
The other day, Junkman mentioned his Chevy 400-powered '57 Porsche 356. Well, one thing led to another, and we invited him to send in some photos for us to share. See, when most guys claim online to have some outrageous engine/car combo ("Dude, I got a '72 Kadett with Detroit Diesel Series 60!") you take the claim…
Say you want to show the world your love for that oil-leaking, pennies-per-horsepower wonder, the Chevrolet small-block. What better way than a huge chunk of sterling silver shaped like an 8-71-blown small-block Chevy on your finger? The artist behind this fine piece of jewelry has made rings for Dale Earnhardt, so…
The fuel-injected 283, which could be had as a (very expensive) option in the 1957 Chevrolet, definitely ranks pretty high on the list of Coolest Small-Block Chevy Engines, what with its then-awesome one-horse-per-cube power output. Here's a science-class-style GM infomercial, complete with gargly 16mm sound and…