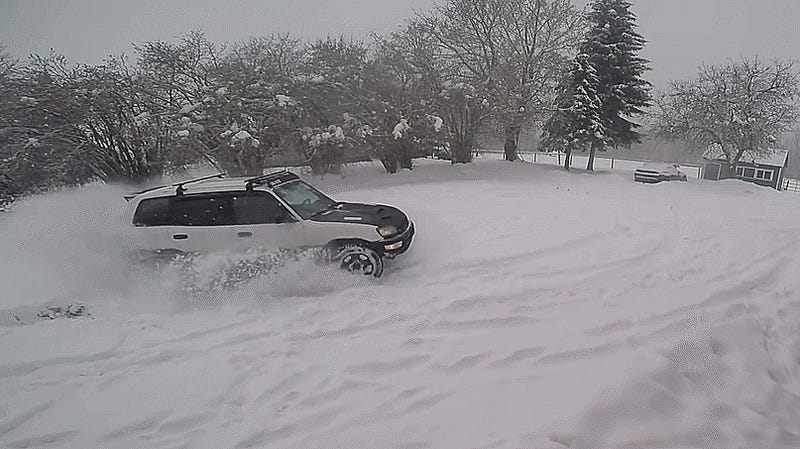 Ryan Shaughnessy is a huge fan of both the Toyota RAV4 as well as the Toyota Caldina GT-T—a mad station wagon made for the Japanese market only. So he swapped a 256-horsepower Caldina GT-T 3S-GTE engine into his 1998 RAV4. The best of both worlds makes for some great snow-conquering hoonage.

Most people make sleepers out of cars that are already somewhat inclined towards performance modification. Old trucks, old American sedans, that sort of thing. Nobody crams an LSx into a 2007 Kia Sorento.

Everyone loves a good surprise, whether it's a cake in the break room or a swift kick in the pants when you stab the go pedal in a car that looks like it came out of a rental lot. That's why today I'm asking you to show me the best damn sleepers you can find for less than $5,000 on eBay. Impress me.
There is no denying the fact getting 728 horsepower out of a Toyota Camry is an impressive feat which has undoubtedly taken countless hours and quite a bit of dedication. Having said that, we're not entirely sure how we feel about Canadian tuner Dynamotorsport's insane creation.
It's hard to believe until you witness the sheer power in the above video, but this full bodied vintage Rolls Royce is capable of a 8.09 second 1/4 mile. According to the builder, the car is still 100% street legal although it has slimmed down quite a bit to a 3050lb race weight. Helping move this British steel down…
It is easy to mistake this 1970 Chevrolet Chevelle Malibu for a nicely restored stock car. Unless you happen to notice the unique "white wall tires" mounted on the stock 15x7 wheels, there is nothing to suggest this car is any different from the average cruise night Chevelle. That is of course until you get a look…