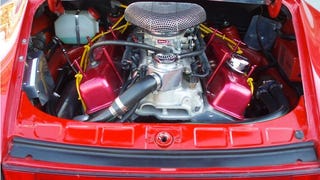 Porsche's first V8-engined road car, the 928, was originally intended to replace the 911. That didn't happen, but today's Nice Price or Crack Pipe 911 has had its rear-mounted flat-6 replaced by a V8. That might make it an 829, but does its price make it irreplaceable?
Born in the '70s, the 935 was the factory racing version of the 911. Today's Nice Price or Crack Pipe 911 shares the 935's slant nose and flared fenders, but unlike its progenitor, you can race this one alfresco.
The car that will tell everyone you haven't moved on from your days as a semi-successful TV action star in the early '90s, this horribly ugly slant-nosed Hummer H1 is one of only two ever made.