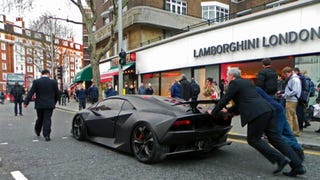 Here we see a man pushing Lamborghini's lightweight Sesto Elemento through London's streets. Looks like typical Lamborghini reliability, no?
German premium auto dealer Auto Salon Singen listed an interesting car on their website this week: the Lamborghini Sesto Elemento. They say Lamborghini's selling ten of the V10-powered lightweight supercars for a crazy sum of $3 million each.
Watch the Sesto Elemento, the technology concept that makes carbon fiber Lamborghini's first element, emerge from its cloud of teaser and press shots live at the VW event here at the Paris Motor Show.
There's a good chance all of those Lamborghini teasers are the Lamborghini Sesto Elemento concept. If leaked rumors are correct this is an all carbon fiber car weighing 999 kg (2,200 pounds) with a V10 powerplant. Sixth element, indeed.