In August 2014 I put everything I owned into boxes, climbed into a U-Haul, and started driving.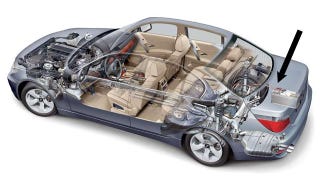 BMW issued a recall today of about 1.3 million cars worldwide over the incorrect mounting of the battery cable cover in 5 and 6 Series models built between 2003 and 2010. The Chicago Tribune reports that BMW is not aware of any accidents or injuries related to the problem.
It's hard to not be detail-oriented when buying a new car. Jeff G. went all out for BMWBlog, hyperstalking his car from the factory to his dealer. This one of the most obsessive things we've ever seen. —Ed.
This scan from Bimmerpost appears to be the upcoming 2011 BMW 5-Series in a revealing leaked brochure scan, but could this image be more than meets the eye?
Ahead of its official reveal at the LA Auto Show, the official details on the BMW Concept 7 Series ActiveHybrid have finally been released after months of us sitting on the edges of our seats, waiting with bated breath. The ActiveHybrid (as opposed to the other name considered, "LazyHybrid") is a "preview of…
Only 350 of the 2009 Mercedes SL65 AMG Black Series supercars will ever be made, but that hasn't stopped one from appearing at the Pebble Beach Concours. The $320,000 Benz has a staggering 661 HP, but that's topped by the 6.0-liter V12's 738 lb.-ft of torque.




(Thanks to J.F. Musial for the tip!)
Toyota just dropped a press release which has everyone running to their Tandy's and Apple ]['s to make sure it's still 1987. Scion will be bringing what's called the 2008 Scion tC Release Series 4.0 to the upcoming Chicago Auto Show and will be making them available as of March. The "tC RS 4.0" as the marketeers are…