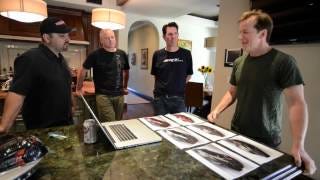 Ventriloquist Jeff Dunham is a Mopar fan and he's famous, so Dodge went and helped him build a custom Challenger. He decided to document the whole thing in a couple of webisodes and do some burnouts too.
Leave it to SEMA to cough up normal cars that have been rendered through the fantasy mill. We've already admitted that we like the Ford Fusion and our prayers for someone to tune a manual transmission model and bring it to SEMA have been answered
Cosworth is a legendary name in performance cars, and now Hyundai has contracted them to tune up their Genesis Coupe. With 389 horsepower and 325 lb-ft of torque, the numbers gains aren't outlandish, but the package looks just right.