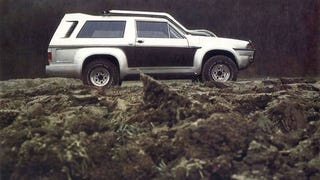 Italian Francesco Zefferino Sbarro—known as Franco Sbarro—is an interesting man. Starting as a mechanic, he gradually worked his way into Scuderia Filipinetti, a Swiss race team. Using strong cars, they competed in Formula 1 and sports car racing, with drivers like Jim Clark, Phil Hill, Ronnie Peterson, Jo Siffert,…
Tucked away on the Paris auto show floor was the Orange Speed'R concept, built by students at designer Franco Sbarro's ESPERA design school for France Telecom's Orange mobile phone service. Anyone else hungry for pizza and Sunkist?
This grotesque mish-mash of automotive design themes is the Sbarro Autobau — a "tribute" to Swiss racing driver Fredy Lienhard. We assume the designer hates him because this is truly the ugliest car we've ever seen.
Not so long ago we showed you an absolutely wicked 4-wheel motorcycle, theYamaha Tesseract (hit that link if you haven't seen it, trust us). Now the design is looking to be a trend with this recent unveiling of Sbarro's Pendolauto at theGeneva Motor Show. Adding a bit of stability to the standard crotch rocket, but…
Each year France's Espera Sbarro design school rolls out some manner of supercar concept for the journo set to ogle. Last year it was the Diva. This year, it's the Turbo S20 Concept 2007. It's a collaboration with the automotive TV show, "Turbo," which airs on channel M6 in France. Twenty students took just 120 days…
Talk about managing expectations. Last week, the Espera Sbarro design school released a sketch of a concept it planned to unveil in Geneva today. We got a long look at the concept in three dimensions, and it's not even close. While the drawing looked less like a car than a cubist's sketch of a post-absinthe nightmare,…