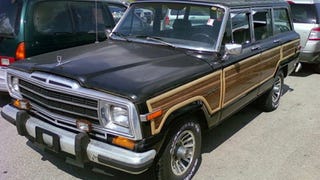 As if the death of a somewhat troublesome Maserati BiTurbo wasn't bad enough, a dealership in Bloomington, Indiana is preparing to execute this supremely reliable 1989 Jeep Wagoneer V6 4x4 with just 67K on the odometer.
The owner of a pristine 1985 Maserati BiTurbo apparently didn't understand the challenging nature of Italian cars, trading it in for Cash For Clunkers; the automotive equivalent of putting down an Asperger's kid because of unprepared parents.
The success of the Cash For Clunkers program has been at the expense of a few great cars. More sales are good, but crushed classics are bad. Look at the Dodge Ram Vanamino above! Someone, please, Save The Clunkers!