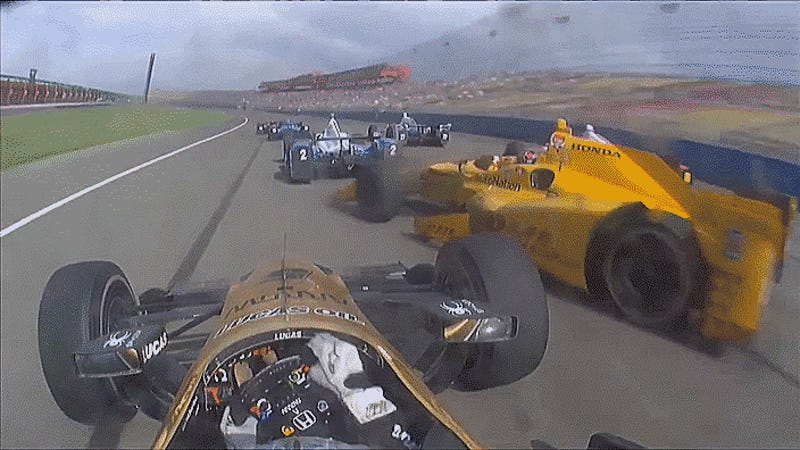 If there's one race that's gotten people talking about the regular season of IndyCar, it's last weekend's controversial outing at Auto Club Speedway. Whether your loved it or hated it, the onboards are certainly fascinating to watch. If you think passing one or two cars is nuts, watch these guys go four-wide.

Graham Rahal ended a long IndyCar winless streak today at Fontana in a thrilling race some attribute to new aero specifications, but the excitement likely didn't extend to driver Ryan Briscoe who managed to escape serious injury after being flipped into a barrel roll on the final lap of the race.
It's one thing to start the Indianapolis 500 with a crash near the back of the field. It's another thing to have another crash under yellow further delay green laps of racing. Oops. So, effectively, the race really got to start from a single-file yellow-flag conga line, not so much from the original three-wide start.

In a terrible blow for the Penske Racing team, two of their cars and loads of equipment were lost in a freak trailer fire in transit between race venues. The trailer is believed to have caught fire as a result of a wheel bearing failure and gotten out of control after the drivers where unable to put the blaze out with…
This weekend saw us warming the seats at the famed Milwaukee Mile for some small track race action after the madness that is the Indy 500. We will admit to allowing our focus to stray (which you'll see in a bit), the qualifying and race was action packed, though not as crashy as you'd expect on a one mile oval. With…