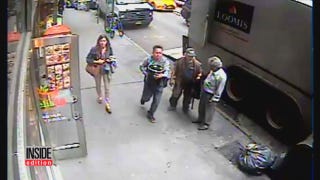 The man who casually walked off with an 86-pound bucket of gold flakes was caught in his native Ecuador yesterday. And so ends the saga of one of the luckiest, most brazen thefts to capture our collective imagination in some time.
Remember that guy who casually strode up to an armored truck and stole away with a bucket of gold flakes worth about $1.6 million? It turns out that ripping off unattended trucks is allegedly his thing.
It may not be as real as Ballaban's Kebab-guy joining ISIS, but an armed roadside gold heist took place earlier this week in Wilson, North Carolina - which is just an hour away from my house. It is, quite literally, highway robbery.
Ben Westwood, 33, had already robbed 16 different businesses across the U.K. by the time he led police on a 65-mile chase that reached speeds of up to 180 mph.
If you're worried about a getaway vehicle during a bank heist, the obvious solution is to use something with no legal connection to you, right? One solution might be to take a dealership test drive, but perhaps leave the salesman behind. In this real-life example, the suspect, Marcel Perrot, took a used truck and…
Normal granddads sit on porches in their boxers and yell at little kids to get off their lawn, they don't, as a rule, rob banks in Palo Alto, Calif. Although, this is exactly what happened earlier this week at a Wachovia bank. A man described as between 65 and 70 and bearded rolled into the bank in his electric…
We've all thought about it. Why don't those armored truck drivers just take the money and run? Well, turns out sometimes they do. USAToday, being leaders in infographics as opposed to actual coverage, has few details regarding James Parker's robbery of his Brinks truck. Seems the Gainsville, Florida man simply left…