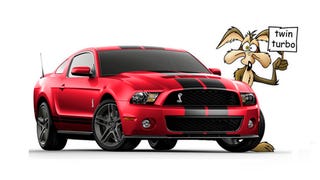 Amid spy photos of a Coyote-engined Ford F-150, our friends at PickupTrucks.com tell us to expect a twin-turbo 5.0-liter "Road Runner" V8 with output of well over 500 HP to debut in the next-generation Shelby GT500 in 2012. Meep!Meep! [PickupTrucks.com]
I was going to follow up the Rover 3500 triple scoop with the terrifying '64 Ford Fairlane Thunderbolt scoop, but then it became clear that we were having a Chrysler sort of a weekend.
If movies have taught us anything, it's that orphans are typically sad, but plucky. Today, Nice Price or Crack Pipe has found a little orphan Hemi, but you might need to be Daddy Warbucks to buy her.
With the Mopar Minivan getting the win over the Blown Buick in Friday''s PCH Turbo Sleeper Edition poll, today seems like a good day to return to some good ol' no-replacement-for-displacement Dee-troit muscle. Sure, you could always whip out a fat roll of Benjamins and turn it into a cherry big-block machine that'll…
In a shocking upset, the Short Bus soundly trounced the Pink Pig in yesterday's Choose Your Eternity poll, no doubt because it's equipped with a V8 and a 4-speed. Today we're going to see what happens when we pit a couple of Malaise Era post-musclecars against each other...
Hemi vs. Hemi. '69 vs. '64. Plymouth vs. Dodge. Super Stocker vs. Wheelstander. Who really cares about ETs when it's Sox & Martin and Bill "Maverick" Golden? Awesome is practically guaranteed.
From the save us from ourselves department comes the news that the days of lovable cartoon characters hawking sugary cereal are numbered. Kellog's has recently come under pressure from advocacy groups who claim the products marketed towards kids contribute to obesity. Tony the Tiger and Dig 'Em are also facing…
It's a darn shame that the Mopar B-body guys don't have the factory hardware to slap truck beds on their cars, while any fool with a Montego can make a Montechero and the roads are practically choked with Tempestaminos. But when it comes to wagons, the Mopar freaks can hold their heads high. Take, for example, this…