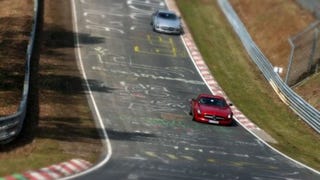 The Mercedes SLS AMG plays cat-and-mouse with another gullwinged sports car across the 'Ring in this tilt-shift photo. [via Numero—13]
We continue to want to marry "Queen Of The 'Ring" Sabine Schmitz, especially after this video of her slamming someone's Porsche 911 GT3 around the Nurburgring then nearly slamming it into a wall, only to pull off an incredible save.
A spy photographer for the German magazine Auto Motor und Sport recently caught the topless version of Lamborghini's LP550-2 Valentino Balboni tear-assing around the Nürburgring. It sounds great. Too bad it doesn't make any sense.
The 2011 BMW M5 causes mischief wherever it goes, whether on the pages of Car and Driver or here, on the Nürburgring, throwing up tire smoke as the rumored twin-turbo V8 lays down some rubber.
Videographer Anders Bäckman wields a simple camcorder while producing incredible results in this short clip of a track day at the Gotland Ring in Sweden. Added bonus: crank the volume for funky electronic beats.
Nordschleife.us has just released their idea of the best Nürburgring Nordschleife loop shirt ever envisioned by man. We're wondering what Sabine Schmitz, celebrity Nürburgringer, has to say about that.
We've been eagerly waiting for this since we first heard the news of the stunning 7:26.4 Nurburgring lap time set by the 2009 Corvette ZR1. Now, we've finally got the footage of the Godzilla-killer in action, ripping up the Nordschleife. But will this silence the skeptics? Either way, the Nissan GT-R had better have…