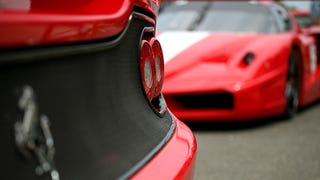 We imagine capturing pictures of an F50 and an FXX together is no easy task, especially in the wild. Flickr user VOD Cars managed to do just that, with excellent results that remind us the only thing better than one red Ferrari is two red Ferraris.
Red Bull Racing took the wraps off of its new 2009 F1 car, the RB5, at Jerez on Monday. We wonder if they'll try to add additional power to it with the little energy drink.
The big Barrett-Jackson car auction in Scottsdale's going on right now and we're already into the fourth day of hot gavel action. Here's the eight top cars that have found new owners through day three.
According to a somewhat non-scientific report by used car retailer CarMax, Black was the most frequently searched color for used car buyers in February with 36% of all searches, followed by white with 17%, blue with 11% and red with 10%. The four least popular colors were silver with 9%, gray with 6%, green with 4%…
Love it or hate it, the 2008 Can-Am Spyder is now going to be available in red. The backwards trike will be offered with the color beginning two days ago in addition to silver and yellow. We have to say we rather like the new color on the motor vehicle which defies naming. The new color is nice and all, but we'd much…