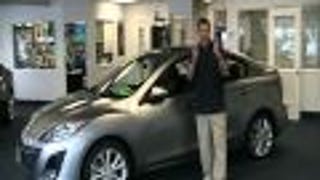 When we saw this goofy white guy in khakis and sneakers was about to rap about the new Mazda 3 we were worried. Surprisingly it's not awful — at least by Tacoma, Washington standards.
Guru may be dead, but the spirit of hip hop lives on in Seattle's Grynch. Here's his ode to the Volvo 240 Wagon. You'll laugh, you'll cry, you'll be impressed by the spot-on description of the chunky a/c controls.
What we have here just might be the greatest piece of community-service rap ever written. The backup singers alone are worth the price of admission.
Just like Momma always used to say, "These hoes wanna fuck my car." We wonder if they meant it literally.
Any rap that manages to rhyme "connoisseur" with "door" deserves a look, especially when it's performed by John Riggins for a mid-80s Ford dealership commercial. Cal Worthington clearly had nothing to fear from this guy, but his work still deserves a space in the Sleazeball Huckster Hall of Fame.