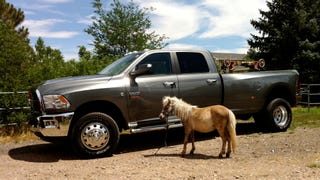 A brand-spanking-new Ram 3500 Mega Cab awaiting endurance testing at the hands of PickupTrucks.com next to what must be — given the truck's base curb weight of 7,821 lbs. — a Clydesdale horse.
PickupTrucks.com has put together the heaviest comparison of all time, pitting a Delta IV, the ULA's largest rocket, against a Ram 3500 Heavy Duty pickup. Although the pickup wins the 0-to-60 contest, that's about all it wins. Astounding infoporn below.
Mike Levine from PickupTrucks.com and I caught a Dodge Ram 3500 sitting outside the SEMA show here in Vegas sporting duallies on both the rear and the front. Wanna double your pleasure? Double your fun? Double the dually! More below.