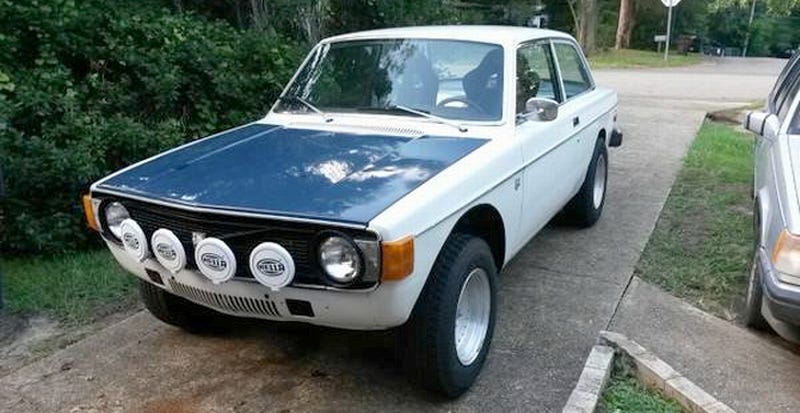 Today's Nice Price or Crack Pipe Volvo is described by its seller as a street-legal rally car, and does have a lot of lights on its grille to support that notion. That's all really intriguing, but will you find that to be enough to make its price seem like a Hella good deal?
The star of RM Auctions' listings for any racing nerd was this beautiful Porsche 911 rally car. It was auctioned off on Wednesday, but not before Richard Meaden at Evo got to drive it. What's it like? It's one of the most raw driving experiences he's ever had.
Bill Caswell became famous for telling Jalopnik of his adventures taking a $500 Craigslist car and beating $400K rally machines to stand on the podium at last year's Rally Mexico. Now he's doing LeMons in an E30.
The Hyundai Veloster Rally Car, unveiled this morning, is about 20 pounds of awesome in a ten-pound bag. Click through the gallery for an up-close look at all that makes the racing Veloster such a darling.
Details of the Hyundai Veloster Rally Car emerged this morning ahead of its Chicago Auto Show unveil on the company's YouTube page, along with video of Rhys Millen hooning it about.
The Hyundai Veloster looks great on paper with its six-speed transmission, 40 mpg mileage, and direct-injection four-banger. But you know where it looks better? Doing a giant jump in full rally mode.
Up to 100 million people could be impacted by the arctic storm taking aim at the eastern United States. Sounds like it's time to turn your vehicle into a rally car, though maybe not a white one. [Photo: Stefan Sager]
Bill Caswell and his $500 Craigslist rally car have a new challenge: the Baja 1000. Caswell's heading to SEMA, welding together a Baja E30, then heading to Mexico. He took a break from construction to share his plans with Jalopnik.
Mercedes Benz isn't known for unleashing their untamed offspring on the public, however in 1979, they did just that. Today's Nice Price or Crack Pipe450 SLC lightens its load by adding aluminum, but is it worth lightening your wallet?
Dubbed Stevie's Wonder by EuroTuner magazine, this rare VW Rallye proves that Golf is a sport, and not just a pastime. Today, Nice Price or Crack Pipe wants to know if its twenty-two grand price will make you say fore!
If you've always wanted to be Carlsson på taket then you'll need the proper ride. Nice Price or Crack Pipe has just the car, and it comes with quite the Saab story.
Entry-level rallying...now there's a concept we can get behind, and Renault's provided a new toy with the introduction of its Renault Sport Clio R3 Maxi Access hot hatch. The French automaker says the R3 Access is designed for folks interested in tarmac rallying, containing a full roll cage, six-speed sequential…