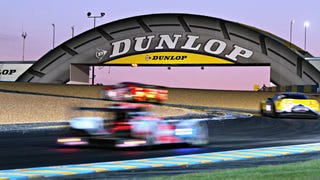 Every win at the 24 Hours of Le Mans is historic, but the Audi R18 E-Tron Quattro's 1-2 victory was especially noteworthy as the vehicles were the first hybrids to win the prestigious auto racing marathon. Let's just not confuse these with your grandma's Prius.
Someone in Ingolstadt is putting ecstasy in the water supply. It's the only way to explain how the Audi R18 Hybrid we've heard about became this diesel hybrid AWD race car. Get your glow sticks out, we're about to rave to the Audi R18 E-tron Quattro.
This isn't some video game replay, this is eight minutes of onboard footage of the Audi R18 TDi that won the 2011 24 Hours of Le Mans. We can tell you how quiet diesel Le Mans prototypes are and how low they rev, but you really just have to hear one for yourself.
The gorgeous Audi R18 TDI's prepping to take on Peugeot at the 24 Hours Le Mans, which means it needed a racing suit. What do you think of the new livery? Is the silver-on-carbon a nice evolution of the old R15 look or is it forgettable?