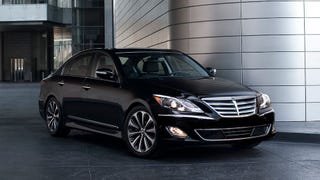 The Hyundai Genesis sedan never adhered to the German model of tight-handling saloonry. Instead, its territory is the budget-conscious middle between beige Japanese technobarges and the rear-drive sedan Buick wishes it had the balls to build. Now Hyundai's created a sharper version with a more powerful engine. But is…
Buyers of the 2012 Hyundai Genesis will be screaming "Five-oh-Oh-OH!" when they check the box marked "R-Spec" on their ordering guide. Like the R-Spec'ed Genesis Coupe the Genesis Sedan R-Spec's on a performance mission, but this time it's carrying a 429-hp Tau 5.0-liter V8.
Hyundai's bribing us into liking them again by announcing the extra-track-ready 2011 Hyundai Genesis Coupe 3.8 R-Spec. Now-optional is the grunty 306HP 3.8-liter V6 and much better Tremec 6-speed positioned above the standard four cylinder 210HP R-Spec. Yes please.
The Hyundai Genesis Coupe 2.0T R-Spec is, at its core, a Genesis Coupe 2.0T Track model sans non-essential convenience equipment for cost and weight reduction. And with a starting price of $23,750, this manual-tranny-only model's built for budget tuners.
The Hyundai Genesis Coupe base model 2.0 turbo with a manual starts at just $22,000 the company just announced here at the 2009 Chicago Auto Show. The 300 HP V6 model starts at just $25,000.