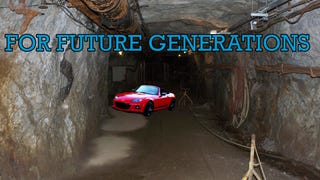 Despite Mazda Motor Corporation's gallant efforts, we will one day reach Peak Miata; the moment when we reach the maximum availability of the brilliant small Japanese roadster. From that moment to eternity, the number of Miatas will become smaller, and smaller, and smaller, descending a bell curve until only Mafia…
In what certainly has to be one of the greatest marriage proposals in international history, aerial photographer Colin Burgess proposed to his now-fiancee Caitlin using 44 Miatas spelled out to read "Marry Me?" in a California parking lot. Naturally, she said yes.
Last week we pointed out the best proposal ever, but proposing to your soon-to-be-spouse while she sits in an incredibly fast American Le Mans Series race car is pretty great, too. The best part though, is her first question – "do I get to take the car out?"