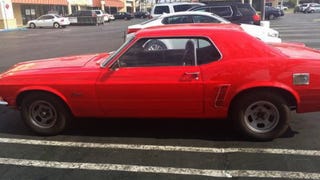 Like those cooking shows where contestants are challenged to fashion a tasty meal out of things like okra slime and horse hooves, today's Nice Price or Crack Pipe Mustang is an example of making do with what you have. Of course, its price may or may not just do as well.
You say your daily driver needs classic early-60s looks, clean-burning alternative fuel... and enough supercharged horsepower to rip out your spine? You want instant Project Car Hell Poster Child status? We've found your next car!
You've seen us cover the propane-powered Roush F-150 in all of its tire-shredding glory. Now, they've upped the ante with a medium duty F-250 running on the same BBQ fuel.
A cleaner-burning fuel than unleaded with an average price of under $3 per gallon, propane is an appealing alternative fuel, despite its lower energy content when compared to gasoline. Brian Feehan, VP of the Propane Education and Research Council, is aiming to have 10 percent of "select auto fleets" running on…
Times are tough in Gaza. So tough, in fact, that the Middle Eastern region's residents, starved for petrol as a result of Israeli sanctions, have turned to running their cars on pressurized cooking gas, according to a report today in the Toronto Star. Yes, that's right: for a little under $300, Gaza mechanics will…
Cars powered by propane aren't exactly rare, a number of manufacturers offer such flex-fuel vehicles. What you don't see a lot of these days is the homemade variety. Thursday, Sarnia police spotted a 53-year-old man driving a car with a protruding hood, which appeared to be blocking the driver's view. Upon closer…
Some of us here at Jalopnik exist in the form of smokers. We're stupid, we know, but it is not our fault. To sorta-quote Dave Berry, "If the government was serious about stopping kids from smoking, they would eliminate the 10th grade." Somehow this all goes back to a night long ago during 10th grade. We were at a gas…