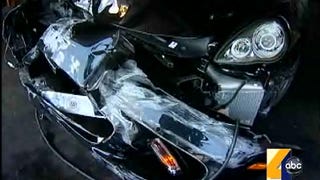 Hip-Hop star Kanye West's black Porsche Panamera Turbo was destroyed in Hawaii this weekend. The car was in the care of West's cousin while Kanye was off the Island and reported stolen after the crash. Hmm... [KLTV]
The addition of a Hennessey Performance stainless steel exhaust bumps power on the Porsche Panamera Turbo up to 550 HP and makes the German sled sound like Tom Waits gargling when mom drops the hammer outside the PTA meeting.
Equipped with spacious rear seats and a fuel-efficient 4.8-liter, twin-turbo, 500 HP V8 engine, the Porsche Panamera Turbo should make the perfect taxi, right? At least that's what AutoBild thought.
Since the Germans invented Schadenfreude, it seems only appropriate that the new Porsche Panamera is so awful that we just can't quit looking at it. With that in mind, we bring you the Porsche Panamera Mega Gallery: 41 pictures of LongBruce, the four-seat Porsche.

Photos of and details about the Porsche Panamera GT, the company's first modern effort at creating a four-door sedan, have officially leaked all over the web and it looks exactly how we expected it to look. From what we can gather from Google Translator and Auto Telegraaf, the Panamera will first hit the shores in…