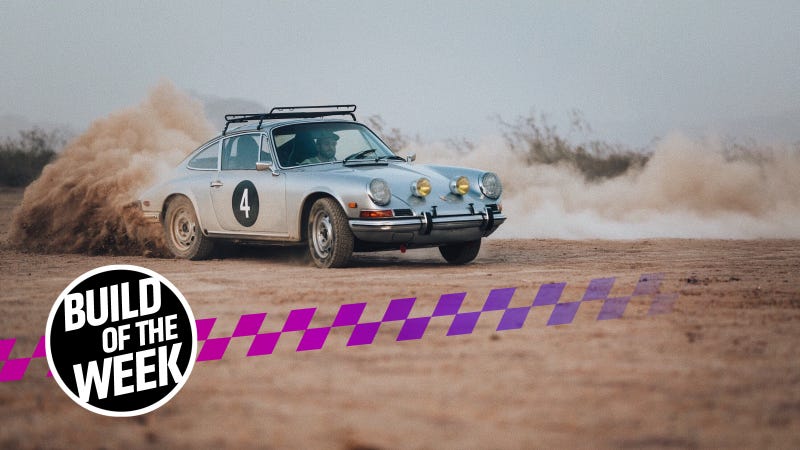 Safari-style Porsches are the it-car of the moment, embraced by rally hooligans and show bros alike. Now Nico Samaras and Mark Gudaitis plan to take this 1968 Porsche 912 on the 2019 Peking to Paris Motor Challenge to prove it's not just another pretty Instagram car.
Everything is cooler in off-road trim—even the 420,666,069th Mazda Miata you've seen on the internet, or a Porsche 912 that was already cool. The masterminds behind the Gambler 500 recently dropped by Hoonigan for a good ol' fashioned hoon-off, and needless to say, everybody wins in their battle of cool cars catching…
Take the religious following of air-cooled Porsche 911s, then reduce that to the community of folks who are evangelists for the four-cylinder 912, and you've got a group of seriously passionate people. Like most passionate people that I've met, they want to bring you into the fold and show you why whatever it is they…
Welcome to Found Around The District, where we highlight fascinating cars we find around a city where people are too busy fighting through traffic and hunting for parking to drive anything interesting: Washington, D.C.
Tony "Junkyard Dog" Adamowicz flogged this Porsche to TransAm victory in 1968. The car began life as a shell from a NYC Impound lot — a 912 the team fitted with a 911 engine. [via vnkndsn]
The 1968 Porsche 912 is a thing of beauty. But what if you neuter one with a barely-60-MPH-top-speed-generating 12 HP electric motor? Not this. Instead, here's how one Hollywood producer turned a Porsche into a slower-than-a-Prius electric pile of compost.
Welcome to Down On The Street, where we admire old vehicles found on the streets of the Island That Rust Forgot: Alameda, California. We haven't seen any 1960s Porsche 911s, but here's another Alameda 912.

Perhaps you breathed a sigh of relief after Chevy-Powered Porsche Hell was over with, figuring that (with the small-block-motivated 911 winning so decisively) you would be spared the temptation of a hacked-up Porsche sporting a non-Stuttgart engine for quite a while. However Project Car Hell doesn't work that way;…