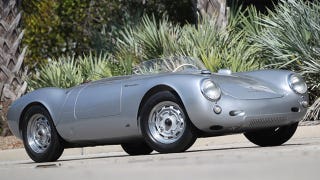 A 1955 Porsche 550/1500 RS Spyder sold for an amazing $3.685 million at yesterday afternoon's Gooding & Co. Amelia Island auction setting a new record price for a Porsche 550.
These days vintage Porsches are high dollar collector items, but in Bavaria in 1955 they were merely tow vehicles for some crazy skiers. This vintage video takes a look at "the world's most dangerous sport" which evidently involved being towed around a track by motorcycles, Volkswagen Bugs, Porsche 356s and even a…
Beck Hansen's first big hit was a song called "Loser." The Beck who makes Porsche Spyder replicas like today's Nice Price or Crack Pipe candidate is no loser, but will the car's price make it a big hit with you?
When we think of the Porsche 550 Spyder, the first thing that comes to mind is James Dean. We suggest you stop thinking about it if you enjoy your health.