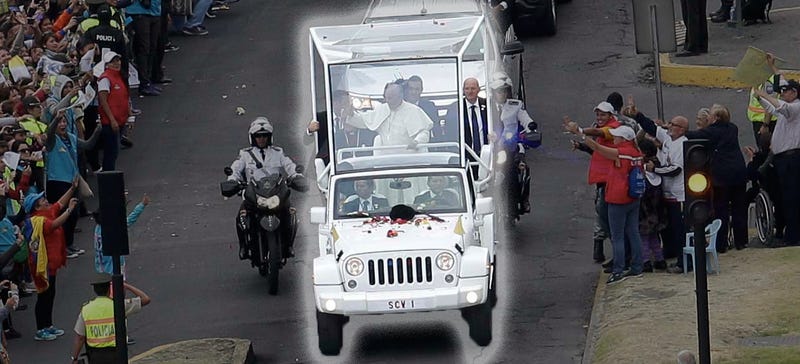 "Cool" Pope Francis will be riding in a Jeep Wrangler Popemobile on his US tour, like the one he had in Ecuador last month, according to a report from Automotive News. Maybe he'll do a stand-and-wave ride through the Rubicon! [Photo credit: AP. We didn't make him levitate at all we swear.]
Pope Francis, AKA "Cool" Pope Francis, is known for such courageous exploits as saying evolution is real and generally just making stuff up, but also for preaching a lot about humility. So how's this for humility: he just ditched the traditional Mercedes-Benz Popemobile for one made by Hyundai.
Pope Francis: Awesome spokesman for his faith, beater enthusiast, secret superhero, and now, Harley owner. I bet you didn't think this dude could get any cooler. Well HE JUST DID.
Noted beater aficionado Pope Francis is hanging out in Brazil at the moment, and Brazilians are really excited to see him. Like, really really excited. So much so that the poor Pope's car got mobbed when his driver went down the wrong lane.
Pope Francis, a man who is actually known for his humility from time to time, is asking priests if they wouldn't mind driving a car that isn't so fancy, maybe from time to time, and would that be so bad, really?