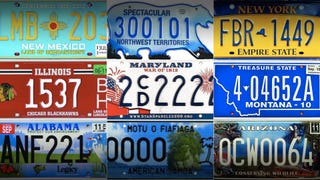 Every year for the last 40 years the Automobile License Plate Collectors Association (ALPCA) selects America's best license plate. This year's 40th anniversary competition featured a record number of nominations from as far away as American Samoa. There's even a bear-shaped plate! Here are America's 12 best license…
A man in possession of the world's greatest license plate has lost his battle with the Virginia DMV, who ridiculously claim it encourages oral sex with kids instead of just cannibalism. Here's their predictably unfunny response to the funny plate.
To misspell a vanity plate? Embarrassing. To have the correct spelling twice within two feet? Mortifying. To own a Toyota Sequoia? Incomprehensible. We're betting this hapless driver doesn't even know there's a problem. (Hat tip toDusty_Duster!)
According to the photographer of this image, the owners of these two cars do not know each other, and this happened completely at random. However, we smell a hoax, because everyone knows the entire state of Georgia is illiterate. [RondamRamblings]
Here's some art which brings up a "why haven't I seen that before" thought. License plates, cut into the shapes of each state, arranged into the shape of the United States. Neat. Is it cool enough to fork over prices starting at $1,895, depends on if you've got spare scratch laying around. Of course if you've got a…
Remember the guy from the United Arab Emirates that paid $6.8M for a vanity plate? His bid for a plate reading "5" set the world record. But that's kid's stuff. A new record has been set by UAE businessman Saeed Abdul Ghafour Khouri, who made a bid of $14,300,000 for Abu Dhabi license plate "1." If it were our money,…
Roses? Check. Candles? Check. Nice dinner in the oven? Check. Beautiful place setting with automotive theme? Negative. It's a shame you forget the smallest parts of your romantic Valentine's Day dinner, such as the nice plates, glasses and silverware. Help is available, however. Say hello to the gearhead place setting.