Making your Le Mans prototype look like a speedboat shooting up a wake of tire smoke is probably going to leave a flat spot. Fortunately, that's just what Porsche's Romain Dumas was coming in for: tires and a driver change.


F1 Racing is like driving jets on the ground. NASCAR is like racing monster cars in sheet metal around an oval. Indy Car are powerful beasts themselves. Each type of racing has their own unique demands and needs. Here is a video that shows the difference between pit stops in F1 Racing, NASCAR, Indy Car, Formula E and…
Pitstop strategy can make or break a race, and that hasn't changed since the early days. What has changed are the rules, regulations, technology, and crazy amounts of precision that go into modern stops. It's gone from one guy with a hammer, to this.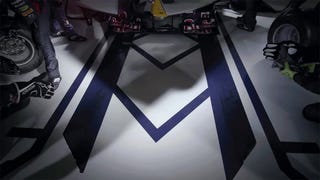 Red Bull holds the record for the fastest F1 pit stop at a barely-believable 2.05 seconds. Here's what that kind of stop looks like in real time, and below is what that looks like in gloriously detailed slow-mo.
It looks like changes to the KERS system in F1 cars will allow them to go electric-only in the pits for 2013 using a significantly more powerful EV system. Is this a greenwashing job or awesome tech? (H/T to Twiggy!)