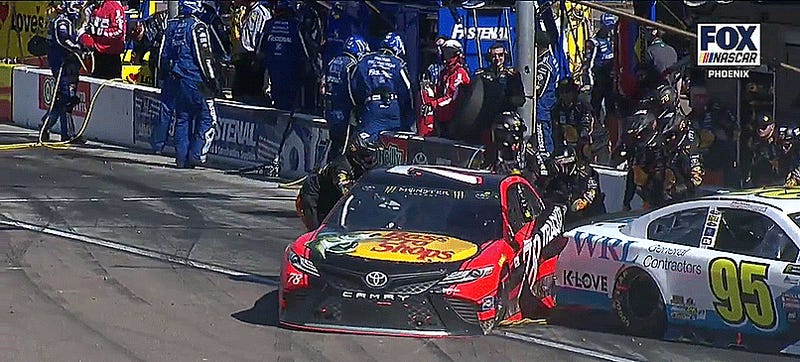 Not content to merely ruin Porsche's shot at winning the 12 Hours of Sebring, air hoses also ruined one of Martin Truex Jr.'s pit stops during today's NASCAR Cup Series race. The air hose from Michael McDowell's car caught the corner of Truex's wheel well and didn't want to let go.

A crew member on the No. 48 of Chase for the Sprint Cup contender Jimmie Johnson had a mild slip-up during today's NASCAR season finale. The jack-carrying crew man slipped on a pair of lugnuts taken off during the tire change.

Daniel Ricciardo was doing so well at the Monaco Grand Prix. He claimed Red Bull's first pole position since 2013, and his first at Monaco. He managed to keep his lead for much of the Monaco Grand Prix itself, where the narrow street circuit makes passes extremely hard. Then he got hosed by his own pit crew.
Martin Truex Jr. is the ultimate underdog story. He drives for a modest one-car Sprint Cup team. This is the farthest he's ever made it in NASCAR's playoff-style Chase for the Sprint Cup. And now, the man is just on fire. Nah, dude. Like, literally on fire.
Either this was the most ham-fisted attempt to shorten a pit stop ever by making the fueler run with the car as he drops the fuel in or Kevin Harvick tried to leave a little early here.
When Autosport asked "What the hell happened there?" in regards to Lewis Hamilton's pit stop snafu at Monaco, Mercedes Formula One team boss Toto Wolff shed some light on what makes timing at Monaco more difficult to calculate than it is at other tracks. Now we know more on how that call was botched.

The talk of the Malaysian Grand Prix ended up being how Sebastian Vettel ignored team orders overtook Red Bull teammate Mark Webber for the lead and win. But Red Bull accomplished something even more significant during that race: They changed four tires on Webber's car in 2.05 seconds. Holy shit balls.