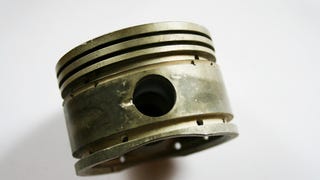 The other day Sam posted pictures of a modern Ferrari F1 piston he found in his closet. Well I looked at my coffee table and realized I had a piston and two valves out of a Ferrari 250 GTO.
Talk about a gee-whiz motor, TARDEC is showing off its Opposed Piston Opposed Cylinder Engine (OPOC) here at the 2008 SAE World Congress and we were impressed enough to take a couple of minutes to find out more. The engine is the result of a DARPA initiative to shrink the overall powertrain package in ground vehicle…
Roses? Check. Candles? Check. Nice dinner in the oven? Check. Beautiful place setting with automotive theme? Negative. It's a shame you forget the smallest parts of your romantic Valentine's Day dinner, such as the nice plates, glasses and silverware. Help is available, however. Say hello to the gearhead place setting.