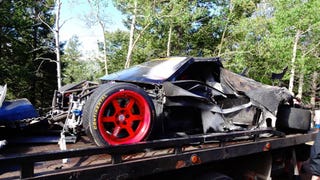 Confirming an earlier report, Cody Loveland becomes the first victim of Pikes Peak in a morning crash that totaled his Corvette-powered NSX race car. Loveland is ok, although part of his goatee is missing.
This year's Pikes Peak International Hill Climb was a touch scary, highlighted by Jeremy Foley's scary roll down the mountain. He's now out doing the TV circuit (Today Show this morning, Inside Edition, and Piers Morgan) and NBC got their hands on the so-far-exclusive in-car footage of the crash.
Last weekend, a Mitsubishi Lancer Evolution flew off of Colorado's Pikes Peak during the hill climb and performed a terrifying series of barrel rolls down the side of the mountain.
By my count there were eight red flags, three life flight helicopter trips, five ambulance trips, over a dozen driver visits to the hospital, and at least one injured spectator at this weekend's Pikes Peak Hill Climb. Why?
The Devil's Playground corner of the Pikes Peak Hill Climb is well known to Jalopnik readers as the place where cars fly off the mountain. This year an unlucky pair in a Evo took the honors. Thanks to modern safety equipment and a quick response, both the driver and co-driver survived the crash.