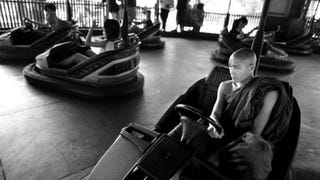 There's not much known about this pure piece of Planelopnik awesomeness other than the fact we want one and we're pretty sure we need it equipped with potato guns on each wing.
We told you how to make Irish Car Bombs for one or for ten, but what if you needed to make them for 5,000 people or one really big, green, Irish giant? [via TCL]
The Geneva Motor Show brought one more reveal late in the Western night. The official name? Well, as you can see above, the latest Bugatti Veyron Special Edition is the most Mustang-like special edition ever.
The Lamborghini Countach is fast, but everyone knows Bulls can't swim, so is it fast enough to walk on water, Jesus-style?
The Dodge Challenger SRT8 is a big, heavy beast of a car, but that didn't stop it from getting a little hang time as evidenced in the picture below the jump.