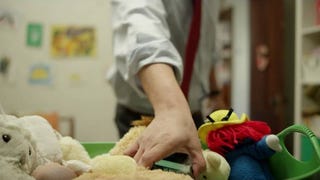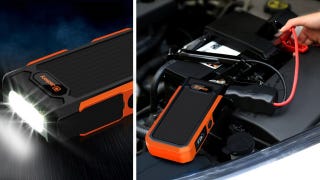 We're no strangers to portable car jump starter/USB battery pack combos around these parts, but the Jackery Spark may be one of the best deals yet. This one is a fairly larger than the Aukey one we mentioned last week, putting out 800 peak amps to jump start your car and 18,000mAh of power to jump start your phone.

By now, most of you probably have a USB battery pack or two to keep your phones charged, and that's great! But I'm willing to bet most of them won't start your car if its battery dies.

If you thought the flaming bicycle was a road menace—it gets worse. This amateur vid captures an idiotic driver (though impressive multitasker) somehow reading a paperback, Kindle, and phone, all at the same time. On the highway.
Hey, America! Get off the phone! Get off the phone! Get off the phone! Thank you. That is all. [Big Oak Studios via IGS]
The recent release of the Apple iPhone 3GS and the Palm Pre provide a great time for these twenty-two exclusive, high-resolution Jalopnik wallpapers to you, our car-obsessive readership. Take your pick below.
Land Rover partnered with Sonim Technologies to create this — the world's first IP-67-rated GSM mobile phone. The S1 is completely resistant to dirt, dust, drops and can be fully submersed up to 3.3 feet.
Eliminating the need to stuff both car keys and a mobile phone in your pockets, Nissan has partnered with electronics maker Sharp and mobile phone company NTT Docomo to create a phone that can do everything your car keys do, plus make phone calls. The gadget may not be able to help you open packages or stab muggers in…
A new Bluetooth system from Mercedes may keep those wacky apocalysts from writing a new "Left Behind" book about Bluetooth phones in hot cars. A new module lets users operate a Bluetooth-compatible phone from a car's multifunction steering wheel, audio system, and central display. The best part is, there's no cradle…