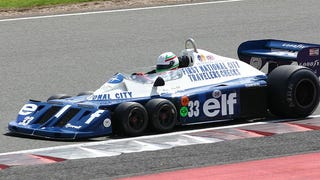 Before Formula 1 entered the modern era, it was a place where wild ideas ruled. Mattijs Diepraam of 8W penned this in-depth look at the six-wheeled Tyrrell P34, one of the most crowd-pleasing race cars ever built. —Ed.
This Vanity Fair cartoon, along with this TV spot, did it. Nothing against her personally (and the VF interview is actually pretty funny), but we're pretty much done. Tell NASCAR we said hi. [Vanity Fair]
Fan-favorite IRL driver and sweetheart, Danica Patrick was captured this month promoting healthy, strong bones in her new Got Milk? ad campaign that'll get the boys running to the local Circle K.
Danica Patrick is no stranger to the front cover of magazines, having spent some time with Sports Illustrated photographers. However, this time it's for SHAPE Magazine. Semi-work safe Danica+bikini+pool photo shoot within.