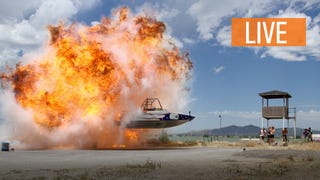 What's it like to face possible death and frequent injury? We'll get some insight into that when Nitro Circus 3D: The Movie premieres this week, but in the meantime we have broken bone enthusiasts Travis Pastrana and Jolene Van Vugt for the next hour, live, in Kinja answering your questions about anything.
For one hundred years people have attempted to climb to the peak of Mt. Washington faster than anyone else. Travis Pastrana beat the record by 20 seconds in a Subaru WRX STI. On his first try. Watch his Subie dance.
Unless you live under a rock, you saw Travis Pastrana ring in 2010 by launching his Subaru rally car 269 feet across Long Beach Harbor at 95 MPH. Now here's the jump in high-res time lapse and high-def video glory.
MTV's "Nitro Circus" star and rally driver Travis Pastrana, along with co-driver Christian Edstrom, clocked a third win this season here at the Oregon Trail Rally situated in and around scenic, hippie-infested Portland.
Travis Pastrana, rally driver and motorcycle stuntman extraordinaire, has completed the world's first Hydrojump. The stunt consisted of mooring a ramp 110 feet from the shore in five-foot deep water. He then raced his motocross bike at the water in excess of 70mph, keeping the power on as he went feet wet. This was…