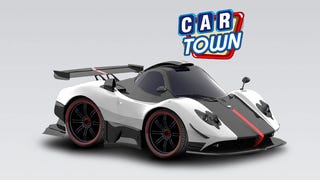 Facebook's game for the car-obsessed cubicle worker, Car Town, is adding a new digital car to help you take down that pesky McLaren F1: a Pagani Zonda. Time to get those interns to start cranking out more paint jobs.
Have you ever seen a Pagani Zonda Cinque Roadster tucked gently away for the night? Two ladies at the Pagani booth performed the procedure for Cinque #3 and we have video.
Pagani's two million dollar Zonda Cinque is built of a new twist on carbon fiber: carbotanium. Top Gear's expert linguists deconstruct the Italian supercarmaker's latest Oakley-ism.
With its carbon fiber body, 678 HP AMG-sourced V12 engine, $1.8 million price tag and limited production of five, we know the type of enthusiast the Pagani Zonda Cinque Roadster is aimed at. Oh and it's roofless.
Twenty percent of the world's Pagani Zonda Cinques can now be yours for a mere €1.6M ($2 million). Look at it as a way to rescue your savings from the bank!
As much as we all love the Pagani Zonda R, it's one of those cars so ridiculously out of reach we have to avoid thinking about it sometimes. Powered by an AMG-sourced V12, the Zonda R and Zonda F Clubsport are among the most extreme track toys our weak minds can imagine. We sadly reported last year that Pagani would…