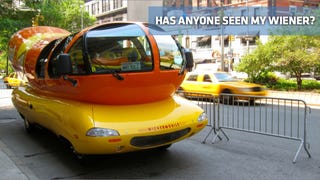 On July 18th, 1936, the original Oscar Mayer Wienermobile first hit the road to spread its mission of wiener domination. Today, 75 years later, the phallic meat-mobile is here in New York City to restore pride to a similar-sounding name sullied by salacious sexting.
Cops in Pennsylvania let the Wienermobile go with a warning after pulling it over for a taillight violation. The reason? Local police sources told TMZ, "It's un-American to ticket the Oscar Mayer Wienermobile." Mom, apple pie and humongous meat. [TMZ]
Oscar G. Mayer III passed away last week and with that unfortunate news, the meat-hatin' folks at PETA have opened their mouths to suggest the beloved Wienermobile should be buried with him.