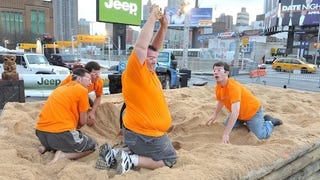 No, this isn't an April Fools' Day prank. Jeep gave away an "Islander" edition Wrangler by burying a key in sand at the New York Auto Show. Then they made these poor people dig for it. Someone won. Dignity didn't.
BMW'll unveil the new 5 Series at next week's New York Auto Show. [BimmerFile]
When the Hyundai Sonata Turbo and the Hyundai Sonata Greenwash Hybrid are unveiled at this month's New York Auto Show, Hyundai exclusively told Jalopnik they believe the two will cancel each other out. "No harm, no foul," we're told.
T.S. Eliot famously stated "April is the cruelest month," thus proving he knew the 2009 New York Auto Show was around the corner. The concepts, production cars and one surprisingly attractive Kia await you below.
Finished checking out day one of the 2009 New York Auto Show? What's on tap for today? We'll see a concept car from Hyundai, press conferences galore and oh yeah, the new Subaru Outback.
We've been pounding the pavement at the 2010 New York Auto Show, bringing you the latest new products and concept cars. Check out the greasy, pepperoni-covered slice of NY Auto Show car goodness below.
Continuing our coverage of the Pontiac G8 Sport Truck ballot bowl naming contest, 50 Cent has announced that he is officially endorsing his own name, "Curtis," for the name of the new ute. This comes as no surprise to our best political team on television hack team of — well, hacks — despite Bob Lutz's unofficial…
Well folks, it certainly was a fun time had by all in the Javits Center here in New York City for the 2008 New York Auto Show. But it appears there's ten reveals that got Jalopnik readers more excited than the rest. Without further ado, here's the hottest of the hot from the city that never sleeps — the Jalopnik top…