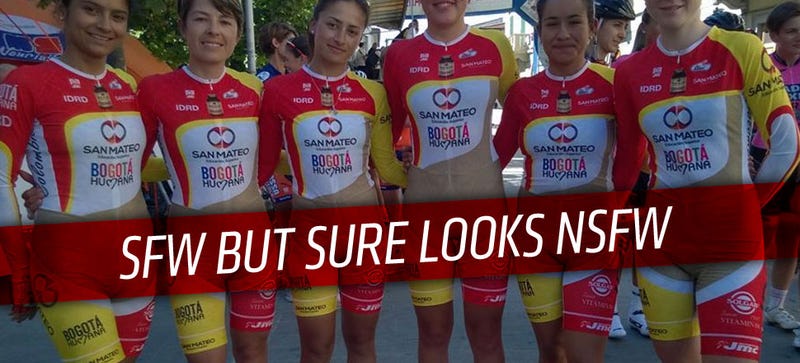 I think if you design uniforms for sporting events, flesh-colored, skintight fabrics should only be used for figure skaters who want to pretend to show massive cleavage without freezing their boobs off. Otherwise, you end up with disasters like this, where a bunch of cyclists look like they're exposing their hoo-has.
Just after noon yesterday, a man in a gray pickup plowed through a car dealership and the streets of Hoover, Alabama, smashing seven other vehicles before stopping for the police. That's when they found out he was totally nude.
A reader sends in this video taken on 6th Avenue in Manhattan at 2:30 a.m. Saturday night. Very few good things happen at 2:30 a.m. on 6th Avenue, which is why it's always a good idea to have your phone camera at the ready.
A man in Los Angeles jogging down the 405 in nothing but a pair of socks was arrested yesterday. Apparently he was stopping cars and trying to engage with the drivers. I don't know about you—and I'd have to see the front view—but I would definitely roll down my window to talk to this guy.