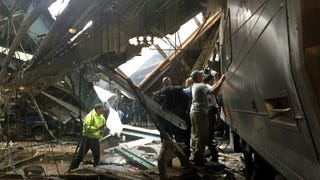 Thomas Gallager, the engineer of the train that crashed into the Hoboken, station in New Jersey in September had a severe case of undiagnosed sleep apnea, according to his lawyer.
A New Jersey Transit crash that occurred last month, which killed a woman and injured more than 100 people, drew national attention to the commuter railroad and raised questions about its safety. And according to federal safety data, the NJ Transit is falling behind other railroads in terms of safety. Like, really far…
George Carlin once said this about riding the bus: "Hey, never mind those people at the bus stop. If they knew anything, they wouldn't be riding the bus." One of those things people don't know is that their driver just might be masturbating while driving. Great.
A New Jersey Transit driver was found dead in his bus after it was parked, empty and idling, at a corner for five hours. No one seemed to notice the bus that never moved or the deceased driver.