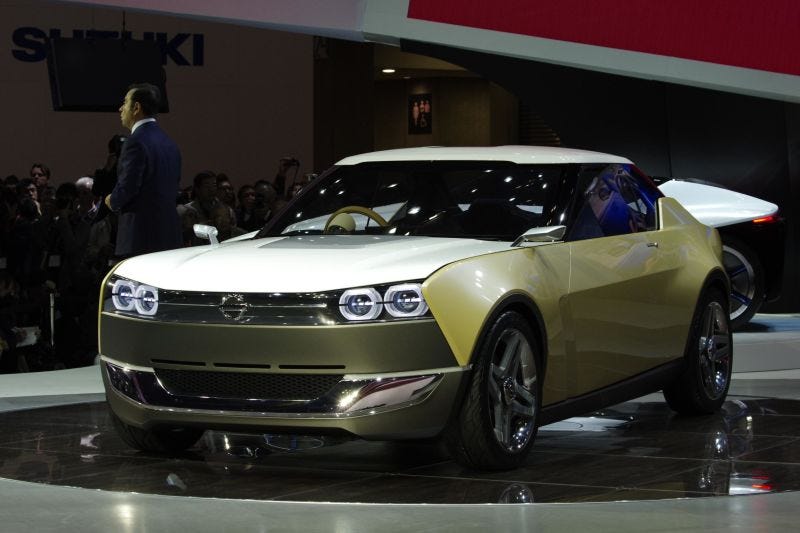 Renault-Nissan CEO Carlos Ghosn, in response to a question from Roadshow, claimed that sports cars are still important despite sinking sales because "they are a testimony of technology and of the brand." It's a nice sentiment, but it rings hollow considering Nissan's current lineup of outdated sports cars and…
The Nissan IDx, that awesome little upright sport coupe concept we got so excited and immediately heartbroken over, will be immortalized in awesomeness in Fast & Furious 8. Looks like it will join a downright decent looking crew of other cars, too.
The ongoing saga of the Nissan IDx is a sad one of dreams meeting reality. But now it might coming to its inevitable end, with a Nissan exec telling our friends over at The Truth About Cars that we might not be seeing a pretty, small, retro, inexpensive, rear-drive coupe anytime soon.
Few automakers embody the concept of disappointment more than Nissan does. With the notable exception of the GT-R, there's no real reason to buy Nissan's middling, anonymous, bloated-looking cars over their competitors. Many were hoping the Nissan IDx and Infiniti Q50 Eau Rouge would help snap the company out of its…
Like many of you, I balked at the $51,365 as-equipped price tag of the last Nissan 370Z we tested. That's ridiculous for a Z, and guess who agrees with us? Nissan design chief Shiro Nakamura, who says the retro Nissan IDx concepts could influence the next Z as well.
Don't get too excited over the Nissan IDx we just saw at the Detroit auto show this year. All signs pointed to a BRZ/FR-S competitor, but Nissan says those plans are still up in the air.
Nissan PR icon Tim Gallagher, the man who makes many things possible with a mere wave of his PR-guy magic wand, leaned against the window of the Nissan IDx Nismo concept said, "You just follow me, OK?"
Get excited, kids. Nissan reportedly has some very kickass sports car plans in the works. We already know their hot BRZ-fighting Nissan IDx has been greenlit for production, but there's more, including a possible return of the Turbo Z.
Upon seeing the Nissan IDx Nismo and IDx Freeflow concepts in person at the Detroit Auto Show earlier this week, I immediately thought they would be the perfect size for a Subaru BRZ fighter. The people at Nissan must think so too. It's gonna be real!