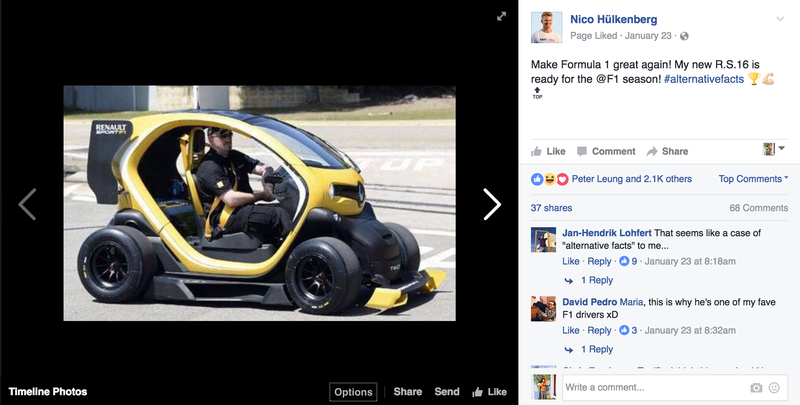 Everyone's hopping on the bandwagon of roasting the Trump White House's ham-fisted public-facing staff—even German Formula One drivers. Current Renault F1 driver and 2015 24 Hours of Le Mans winner Nico Hülkenberg is the latest to leak some "alternative facts" about his new race car.

The 2015 24 Hours of Le Mans winner and guy who probably deserves a better Formula One drive Nico Hülkenberg will move from Force India to Renault in 2017. Renault's struggling team currently sits in ninth place out of eleven teams in the constructors' championship, but, at least they're a works team?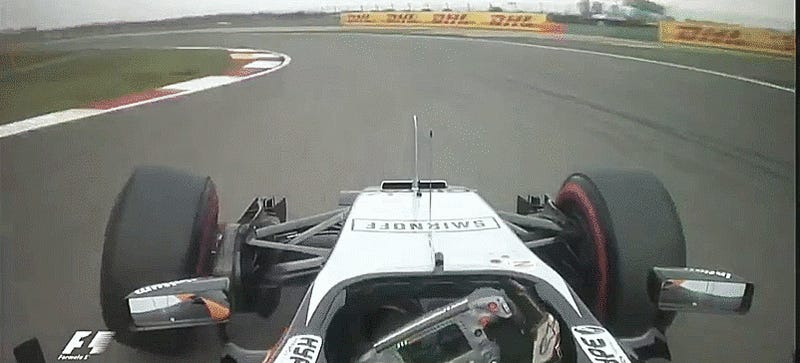 In the weirdest karmic revenge for ditching elimination qualifying, we saw a number of drivers out of their cars before the end of the second qualifying session anyway. A loose wheel caused a red flag with just over a minute left in the session to go.
Just days after triple-quadruple-pinkie-swearing that a Formula One pilot would not be driving Porsche's third car at Le Mans next year, Porsche announced Nico Hulkenberg as one of the third car's drivers. Hulkenberg will be the first F1 driver since Sebastien Bourdais in 2009 to do Le Mans during an F1 season.
Although you're probably more interested in the "grid girls" — Team Germany's Nico Hulkenberg took the double win in Taupo, New Zealand, running in first place from start to finish in both the morning Sprint race as well as the afternoon Feature race. The win times two puts Hulkenberg's highly precise team firmly in…
After Neel Jani took the pole yesterday and turned it into a win during the sprint race this morning, the race gods decided they'd had quite enough Swiss dominance for one weekend — opening the heavens up half an hour before the start of the feature race, forcing a start behind the pace safety (damn this silly A1GP…