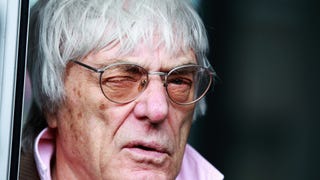 Formula One's reigning autocrat, Bernie Ecclestone, told the BBC today that the upcoming New York Grand Prix (set to be held across the Hudson River in New Jersey) may be delayed a year from its planned 2013 date to 2014. It marks the first time the race has been questioned in an official capacity.
Jalopnik superfriend and New Jersey explorer J.F. Musial captured this image of the start of construction for the New Jersey Grand Prix. It might just be the paddock/parking garage, located in exceedingly glamorous Weehawken, but it's a start.
Stencil artist and Jalopnik reader Xander Walker didn't wait until 2013 to see the poster for F1's newest race. He created his own and he's got a run of 300 signed and numbered copies for sale.
During today's press conference announcing the New Jersey Formula One race, officials quoted one UK newspaper as saying the prospective street circuit would "race like Spa, look like Monte Carlo." Awesome. So how'd they find such a pitch-perfect site? Google Earth, apparently.
Yup, it turns out, from this first shot from the official press conference that's about to start, that we were absolutely correct about the layout of the New Jersey F1 race course. And here it is.
Formula One, the international motorsport that has struggled mightily to gain a foothold here in the United States wherein their open-wheel cars make both left and right turns, is officially coming to New Jersey in 2013. Yo, Pauly D's totally gonna try to jump Tamara Ecclestone, right?
In response to overtures made by Bernie Ecclestone's Formula One Management, Ltd., Jersey City, New Jersey has announced a track layout for the proposed return of the United States Grand Prix. (What? You were expecting Newark?)