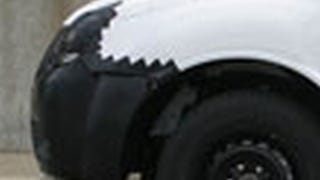 The 2012 Ford Ranger, expected to debut for the 2012 model year, will feature an EcoBoost 1.6-liter turbo four-cylinder engine. PickupTrucks.com spotted this one and have more details for us on the lonely island-of-a-segment.
Underneath these Mazda B250-bodied mules, shot in Michigan in right-hand-drive and Australia in left-hand-drive configuration, is the "T6" EcoBoost-powered global platform replacement for the 2012 Ford Ranger. Looks like compact trucks ain't dead yet. [PickupTrucks]
The Ford Ranger may be withering on the vine after 13 years without an update, but the 2010 Ford Ranger is set to get some major safety upgrades. Unfortunately, it's not getting much else.