We have pictures of the new Chevy Aveo. Moving on... [AutoExpress]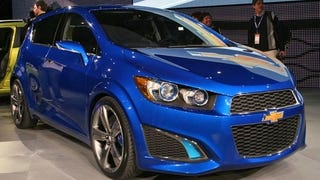 The Chevy Aveo RS show car is a fairly transparent look at the next-generation entry, slotted above the Spark and below the Cruze. It'll begin production in 2011 and go on sale in 2012, albeit with a lot less aggression.
The problem with the current Aveo is its crushing mediocrity. But after looking at the Chevy Aveo RS show car earlier today, it's clear this lightly-disguised preview of what's to come is styled much more aggressively than the last one.
The new Chevy Aveo will obliterate the current car's econobox image. Today, workers at the car's Orion assembly plant previewed it, seen showing the covered teaser above. We'll tell you all about it next week at the Detroit Auto Show.
It looks like a budding Photoshop artist took the wraps off a 2010 Chevy Lova to arrive at what our next-generation Chevy Aveo could look like. With the exception of a reversed bowtie grille emblem, it's not too bad a job, either. The Malibu-esque fascia would be a fairly straightforward transplant for Chevy and go a…
We love seeing spy shots of cars we've never heard of, which is why we were interested in scoping out this Chinese-market Chevy Lova. As you can see for yourself, though, it didn't take much sleuthing to identify the lines as those of the Chevy Aveo, but not exactly the one we're familiar with. The Lova has a…