BMW'll unveil the new 5 Series at next week's New York Auto Show. [BimmerFile]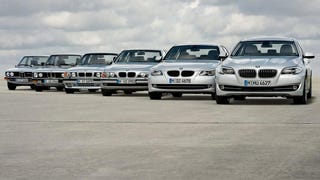 For this installment of "Caption This," check out this shot and the one below, pulled from the BMW 5 Series press photos and witness model bloat in pictorial form. Just look at the original — it's so tiny.
We're going to see all of the 2010 BMW 5-Series Monday, but after showing off its balls BMW just revealed its headlights. Now all we need is the rump. More photos below.
This new tease of the 2011 BMW 5 Series may not be the most artistic teaser shot of a new car we've yet seen from an automaker but it's certainly the most esoteric. Here's how they made it.