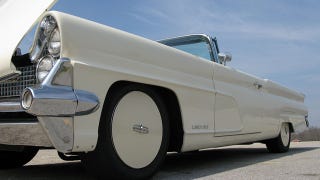 The company Neil Young founded to create his hybrid electric 1959 Lincoln Continental is being sued for property damage that occurred when the car set itself on fire in 2010. Unigard Insurance Co. is suing Lincvolt LLC. because they believe the company's conversion of the vintage Lincoln into a Hybrid was a negligent…
Rocker Neil Young has spent years converting a 1959 Lincoln Continental into a turbine-charged electric hybrid, even releasing a green-car song album. Last week, a fire at his California warehouse severely damaged the LincVolt. The apparent cause? The LincVolt's charger.
This video is apparently Young singing (or mouthing) the title track from Fork In The Road which is basically a condemnation of the choices people who own gas guzzlers make. It's pretty awful. If the whole album is this literal and angry it'll be completely un-listenable.
Neil Young has decided to make himself an example of how hybrid electric cars can be produced with existing technology and without the loss of style with his Lincvolt, an all-electric version of the awesome 1959 Lincoln Continental Mark IV Convertible. He's been working with noted alternative energy nerd Johnathan…
Somewhere on a desert highway, she rides a Harley Davidson 1959 Lincoln Continental Bio-Diesel-Eletric Hybrid. Neil Young is taking a look at his life and realizing that his classic Lincoln is just burning too much fuel, so he's taken it to H-Line Conversions to get it converted to a hybrid that he claims will get 100…