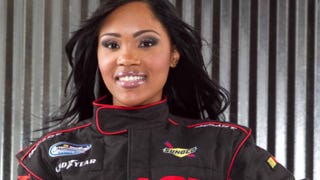 For years, stock car driver Tia Norfleet was heralded as a shining example of diversity in the historically not-so-diverse NASCAR. She has been touted in the media as the first black woman to race in NASCAR. But how much sanctioned racing has Norfleet done exactly? About one lap in a low-level event last year, despite…
Another weekend of NASCAR racing is underway, but last weekend's crash at Daytona remains on everyone's minds. Today, NASCAR officials said they are examining the placement of gates that separate the grandstands from the track.
Resident NASCAR idiot Kurt Busch continued his campaign of jackassery Saturday after the Nationwide Series race at Dover today, verbally attacking a reporter who dared to ask about the probation NASCAR imposed after Busch's May 12 incident with Ryan Newman.
Rising up from ARCA stock car racing to the NASCAR Nationwide Series, there is a new reason why people may tangentially care about NASCAR. Her name is Maryeve Dufault and this is everything you need to know about this model-turned-badass.
If you weren't listening to Kimi Raikkonen's in-car audio during his NASCAR Nationwide series debut yesterday (he raced a truck last week), you missed some gems. During the race he managed to curse his car, his burning ass, and the lack of hydration.
As we predicted over two years ago, the Mustang's officially entering NASCAR for the first time in the 2010 Nationwide Series. Better yet, here's the first official rendering of what the new "stock car" will look like.
We reported last year that the next battle in the Muscle Car Wars (patent still pending) might play out on the oval tracks of Nascar's Busch Series. We were only partially right, as testing of the Nationwide Series (formerly Busch Series Leagues) 2009 Car of Tomorrow began yesterday at Richmond International Raceway.…
We know despite our own usual disinterest with America's favorite racing series, there's at least a few of you NASCAR fans out there. Even for those of us who aren't fans of the always-turning-one-way-action there's one thing we can all come together on for entertainment value: the crashes. It may be the dirty little…