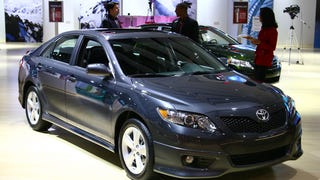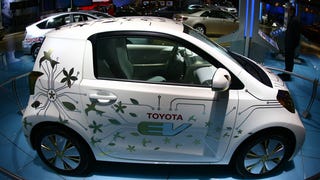 The Dodge Circuit EV may not get a full reveal until later, but our quick-shuttered photographers already nabbed photos of the new EV. You can find it unwrapped below.
In 1986, Ford unleashed a moonshot automobile which dragged the company and its competitors into the future. With the 2010 Ford Taurus, it seems Ford is staking its claim at greatness again.
The 2010 Ford Flex EcoBoost will bring Ford's 355 HP twin-turbocharged V6 engine to the Ford Flex, providing V8-like power for those who want it in their seven-passenger crossover.
Ford has unwrapped its EcoBoost technology and is promising 355 HP and 350 lb-ft of torque from its new twin-turbocharged V6.
Toyota will show off it's Toyota iQ-based FT-EV electric car at the Detroit Auto Show this week as part of a push towards a larger, greener fleet.
You know those student design concepts that are all naïve ideas and very little reality? It looks like Chrysler's ENVI program has gone back to school for their electric Dodge Circuit EV concept.
The Audi Sportback Concept appears to be pushing market segmentation to the limit. Always wanted an Audi luxury crossover that wasn't tall like a Q7 but bigger than an A6? Read on.
The Kicking Tires blog has a spy photo of an electric vehicle based on an existing platform we'll see at the Detroit Auto Show this weekend. It looks strangely familiar. Any thoughts? [Kicking Tires]
The re-badged Lotus toy Chrysler plans to bring to the Detroit Auto Show this weekend is called the Dodge Circuit EV. Whether it'll get a red bandanna tied around a side mirror is anyone's guess.