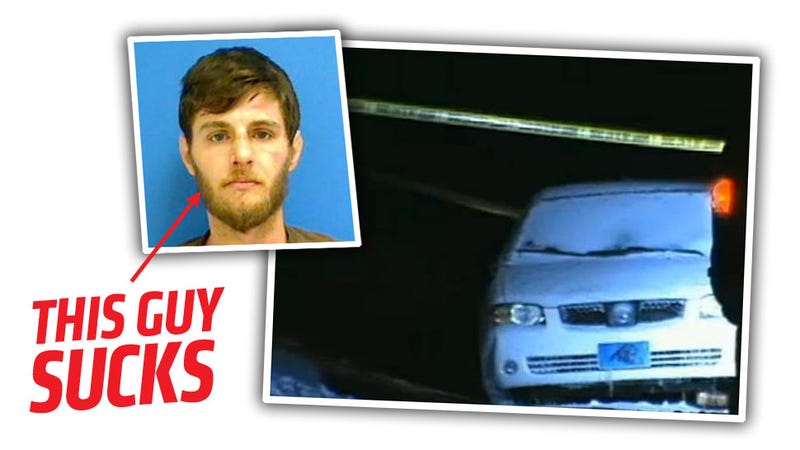 I live in North Carolina now, and generally, I like the state: good barbecue, Buckminster Fuller lived here, Cheerwine, and we're one of the only 72 states to have the cardinal as our state bird. But then I read about this allegedly drunk idiot outside Charlotte, NC who police say shot at the people who tried to help…
Welcome to Grim Yelp Reviews, a regular feature where we share people's worst experiences at the worst places. This week: the wheels on the bus go round and round, round and round, a chaotic spiraling miasma of exhaust fumes and barf.
Usually when someone feels they have been ripped off on a car deal, they will take their rage to Facebook or perhaps the local news might get contacted. If it is really bad they may get an attorney involved. A Rhode Island man decided to settle the score by smashing the seller in the head with a big piece of wood.
The body of a man found dead on Hayes Road in Carnesville, Georgia, was identified by law enforcement officials as belonging to 32-year-old Keith Ratliff, the weapons manager of YouTube's third most popular channel, FPSRussia.
On Monday, we brought you the tragic story of Susie Ko, the 55-year-old mother of four found slain in her Hercules, Cal. home. The only information police and Ko's family seemingly had to go on was the fact a 2011 Subaru Outback was missing from the scene.
Law enforcement agencies from across the U.S. have reached out to Jalopnik for help with car identifications since your input was "critical" to solving a hit-and-run earlier this year.
When Tom Edwards' wife, Teresa, refused to get out of bed to buy a car Monday morning, he left the room, smoked a cigarette, then came back in and shot her to death. Edwards told Columbus, Ohio police that he and his wife had been arguing about getting a new car the previous week.
Harry M. Stone, a 60-year-old member of St. Luke's United Methodist Church in Raytown, Mo. wasn't expecting any trouble when he went for his morning jog Sunday. But his exercise regimen, and his life, were cut short when someone fired shots from the window of a passing car.
When police arrested James D. Willie, 28, for allegedly trying to rape a woman, they found that the gun he fired during that altercation was linked to two highway murders in northwest Mississippi. Investigators initially thought they were looking for someone who had been posing as a police officer, but that turned…
A Florida man recently appealed to the public to help find his missing wife. One day later, she turned up dead in a car that was videotaped being pushed into a lake. Guess who the pusher looks like?